Scars with history
You've all got scars: they're nature's little reminders not to be
so damned stupid next time
. My favourite is the 1/4" round hole in the back of my right hand, created when I was 7 by my best friend putting a manure-covered gardening fork "away".
Tell us the stories behind your scars. With photos if possible.
( , Fri 4 Feb 2005, 10:00)
« Go Back

I did this falling off a roundabout in the park...
...when I was 35.
Ended up with a Trimalleolar Fracture of the Fibula and had to have a steel plate put in my leg which is still there.
Of course, all the doctors and nurses took the piss in the nicest possible way.
The bastards.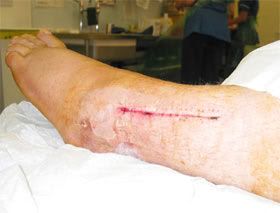 ( , Fri 4 Feb 2005, 20:05,
Reply
)
« Go Back