The most childish thing you've done as an adult
Davros' Grandad confesses: On visiting my ex-wife's house, I wiped my bum on the toothbrush belonging to the bloke she ran off with. At least, I thought it was his toothbrush.
( , Thu 17 Sep 2009, 14:36)
« Go Back

Masturbation
One from uni days. Wasn't me who made it. I believe this made the newsletter at the time.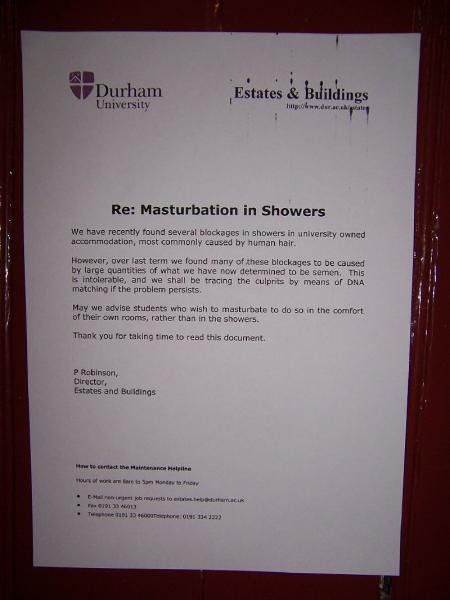 Click for bigger (106 kb)
( , Fri 18 Sep 2009, 18:29,
closed
)

Brilliant
Would have signed it off as Mike Oxlong if I had made it.
( , Fri 18 Sep 2009, 18:50,
closed
)

This
Mike Oxlong.
Fucking marvellous...
(wishes he could click a reply)
( , Fri 18 Sep 2009, 22:36,
closed
)

I was at
Durham Uni when this did the rounds. Sadly it turned out to be a hoax, but I didn't know that when a mate emailed it me and I spat diet coke all over my keyboard.
( , Fri 18 Sep 2009, 19:37,
closed
)

Stephenson, 2004 - 2008
A pikey Stockton student, mores the pity. I spent quite a lot of time up in Durham though.
( , Sun 20 Sep 2009, 16:44,
closed
)

When at uni in Wales
Someone nicked a load of university headed notepaper and delivered letters around campus advising everyone of a vacuum cleaner inspection the following day. The next day, the campus was filled with people lugging their cleaners up hill to the communal block only to be told by the porters that it was a joke. Classic.
( , Fri 18 Sep 2009, 23:41,
closed
)
« Go Back