I'm your biggest Fan
Tell us about your heroes. No. Scratch that.
Tell us about the lengths you've gone to in order to show your devotion to your heroes. Just how big a fan are you?
and we've already heard the
fan
jokes, thankyou
( , Thu 16 Apr 2009, 20:31)
« Go Back

Red Dwarf
About a week ago i went to go and see the Red Dwarf crew (minus Lister) promoting thier new three-part special, and i waited around for three hours before they got there so i'd have a good chance of seeing them.
Not that impressive, but it's the most i have done to meet someone like that.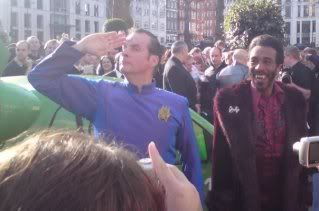 ( , Thu 16 Apr 2009, 21:49,
8 replies
)

anyone else...
...eagerly awaited the new 'series', only to feel a faint sense of disappointment?
Slightly too short / self-referential / in-jokey. Not wanting to boast, but I had the 'squid' angle worked out from the start. Nice Bladerunner references though.
Mind you, it's always hard to see your 'heroes' have aged, a visible reminder of all our mortality. And some things are forever better in your memeory than you'd judge them now - anyone remember that scene in a past series where they're walking down a corridor, reach the end, walk around a pillar and walk back down same corridor; all because they didn't have a large enough set to film the walking scene any other way?
It seemed, despite only providing 1.5h of new content (2h if you count 'the making of'); to form the *Entire Dave Scheduled Output* for three days or so. Kudos for starting to turn out original content, and for allowing the most people the chance to see it, but steady on dudes!
Overall, a decent effort. Any comments?
( , Fri 17 Apr 2009, 8:30,
closed
)

I saw the new eps on Dave as well...
...mixed feelings to be honest. Yes, it was great to see them all back again and the shows did have a few clever bits but, to be honest, it left me feeling a bit cheated really. I was expecting a whole lot more from it and it didn't really deliver what I hoped it would.
At least I can console myself with the earlier series' on DVD. Woop!
( , Fri 17 Apr 2009, 16:50,
closed
)

Indeed
It was not as good as it should have been, but im still glad they did it.
( , Sun 19 Apr 2009, 16:28,
closed
)

I was once mildly insolent to Craig Charles
A looooong while ago, the company I work for did some computer graphics for BBC Manchester's TV programme "Cyberzone" (not that anyone's ever heard of it, though). It was fronted by Craig Charles, and I had met him briefly during the pilot episode.
When we went to shoot the series, during a lull he came over to me and said "Hmm, you seem familiar, have I seen you before?"
I replied that I had worked on the pilot, and that he, too seemed somehow familiar and had I seen him somewhere before?
Lost for words, he had no choice but to slap me playfully round the face, Eric'n'Ernie style.
( , Fri 17 Apr 2009, 12:06,
closed
)

Cyberzone
Wasn't that the crap VR thing set in cyber-swindon or something?
( , Fri 17 Apr 2009, 17:33,
closed
)
« Go Back