Losing it
Bluehamster tells us: "This morning I found myself filling my mug not a teabag, but with Shreddies." Tell us of the times when you've convinced yourself that you're losing your marbles.
( , Thu 21 Jul 2011, 12:59)
« Go Back

I regularly confuse east and west
Fuck it, pretty much everything else this week has been tenuous.
( , Wed 27 Jul 2011, 9:31,
6 replies
)

what is that?
There are loads people who have trouble this, and not just east/west, but left/right as well.
I never really understood how you could confuse them - I mean, it's not exactly a huge amount of information to memorise, and they're always the same way round - it's like getting up and down mixed up.
There's probably a really interesting explanation for the phenomena. I literally cannot think of a single reason why east/west should be harder to remember than north/south - after all, the only way to flip east/west on a map is to flip north/south as well.
( , Wed 27 Jul 2011, 12:53,
closed
)

I blame mirrors.
Up and down are always the same but right and left change depending on the perspective. The US pic below does a great job of explaining East and West.
( , Wed 27 Jul 2011, 18:35,
closed
)

Never Eat Shredded Wheat
was the way i learned it. For some reason - I always know where north is now. Ive only been caught out once or twice getting off the tube.
( , Wed 27 Jul 2011, 14:05,
closed
)

Maybe he's an American?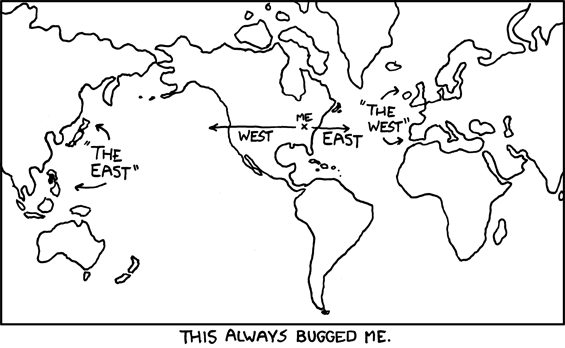 Still, it's their own fault for living on the wrong side of the world.
( , Wed 27 Jul 2011, 16:22,
closed
)

I most certainly am not American
That may well be the most offensive thing ever said to me in my 5 years on 'the board'.
( , Wed 27 Jul 2011, 19:45,
closed
)
« Go Back