Sexism
Freddie Woo tells us: Despite being a well rounded modern man I think women are best off getting married and having a few kids else they'll be absolutely miserable come middle age.
What views do you have that are probably sexist that you believe are true?
( , Sun 27 Dec 2009, 12:23)
« Go Back

Think this just about covers it.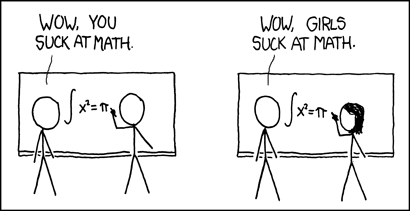 Sorry for the embedding. I'll edit it out if anyone feels it offends them enough.
Credit obviously goes to xkcd.
( , Sun 27 Dec 2009, 18:17,
2 replies
)

they don't
It's just that they only have the one math. The rest of us have several.
( , Sun 3 Jan 2010, 19:31,
closed
)
« Go Back