Weird Rituals
David Cameron holds in his piss in order to concentrate. What weird borderline OCD shit do you do and why?
( , Thu 15 Dec 2011, 14:17)
« Go Back
|
See The Full Thread

My first, sort of pearost!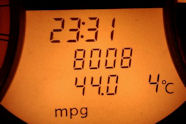 hehe, boob...
Edit: If only I'd have waited a minute (and 0.4mpg) and it'd all be palindromic!
( , Sat 17 Dec 2011, 17:30,
Reply
)
« Go Back
|
See The Full Thread