Image Challenge suggestions
We think a good challenge idea is like the opening line of a joke, say "
If ads told the truth
... Guinness would say 'It makes you fat, and your shit turn black.'"
Maybe you have other ideas.
We're going to leave this thread open, so feel free to add ideas at any time. BTW: Please use the "i like this" button. Your voting really helps the good ideas bubble-up, and the very best will be used in the Image Challenge itself.
( , Thu 21 Oct 2004, 13:55)
« Go Back

Justin Bieber in weird places
Mission Statement: Photoshop Justin Bieber.
Love Bieber...Hate Biber? Whatever you think of Justin Bieber we are trying to compile a galley of 'the beebs' in some very unusual places.
See the gallery so far here:
jones.coldlime.com
If you're pretty handy on a computer, we'd like you to sumbit your own photos... and we'll post our favourites (be sure to leave your name).
Either through the blog or on b3ta.com
(please note: this is for a school project and is in no way a website for profit).
( , Tue 8 Nov 2011, 9:49,
Reply
)

that's what passes as a school project these days?
( , Tue 8 Nov 2011, 9:56,
Reply
)

Submit our *photos*?
So you don't want us to use photoshop, you actually want us to acquire Bieber and arrange these situations for real?
( , Tue 8 Nov 2011, 21:36,
Reply
)

Q's
Firstly, The 'project' is basically:
1. create a blog
2. get hits
3. ?
4. Analyse results
5. Profit (or in our case non-profit)
It's a competition they have set in class.
Secondly, If you have access to Beiber 24/7 then that would be ideal!
... failing that photoshop will be fine (as stated in the first line).
( , Wed 9 Nov 2011, 9:56,
Reply
)

How's this?
Justin Bieber playing paper-scissors-stone with Hitler outside a village pub in Wales.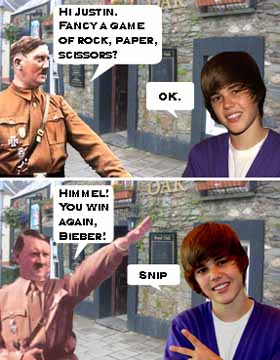 ( , Wed 9 Nov 2011, 22:18,
Reply
)

I never realised quite how similar Justin Bieber and Sebastian Vettel look...
( , Mon 14 Nov 2011, 14:46,
Reply
)
« Go Back