I'm Sorry I've Written A Joke
Challenge: write a joke. As simple joke with a setup and a punchline.
RULES OF ENGAGEMENT - IGNORING THIS COULD RESULT IN BAN
* Don't steal jokes - write them
* Don't flood post
* Just don't be a dick ok?
So join in and write a bad joke and apologise for it.
Read
Latest
|
Highest Voted
( , Wed 8 Aug 2018, 9:00)
« Go Back
|
See The Full Thread

well if my theory is correct
rob's presence is the issue, how can people be puerile if they're excluded on a whim, with no feedback as to why?
I wouldn't characterise what I wrote as entitled whining either. Your post is full of assumptions, about me, rob, and b3ta.
( , Sat 9 Jul 2022, 16:06,
2 replies
,
latest was 3 months ago
)

my only assumption was that you were being serious when you were having your whine, instead of perhaps some pastiche meant as humour
and unfortunately one that you've just confirmed, unless you're really committed to the bit.
so you've already had a post deleted whining about the site admin, and yet here you are doing the same thing again and also whining about the deleted post. I don't know too many sites where they tolerate that. You haven't even donated the 5 pounds or so for a little icon, the mods and rob on this free site don't owe you anything. I'm going to make another assumption that you lack basic self-awareness and are upset for not getting what you feel entitled to, be it rob's presence, or prompt responses to your petty bullshit, without really thinking about what others do quite selflessly to keep the site going. anyway, I regret writing this, as it'll most likely get deleted with the thread.
I do hope you're not sockcooker. you sound a lot like him
( , Sat 9 Jul 2022, 16:43,
Reply
)

he's a self important board policeman
( , Sat 9 Jul 2022, 18:34,
Reply
)

New R White's campaign
( , Sat 9 Jul 2022, 20:20,
Reply
)

White is right m8.
( , Sat 9 Jul 2022, 22:06,
Reply
)

Please don't use b3ta as an outlet for racism, or your posts will be deleted and your account banned.
( , Sat 9 Jul 2022, 22:09,
Reply
)

I meant Jimmy White
( , Sat 9 Jul 2022, 22:35,
Reply
)

I've heard Robs still tweaking the CSS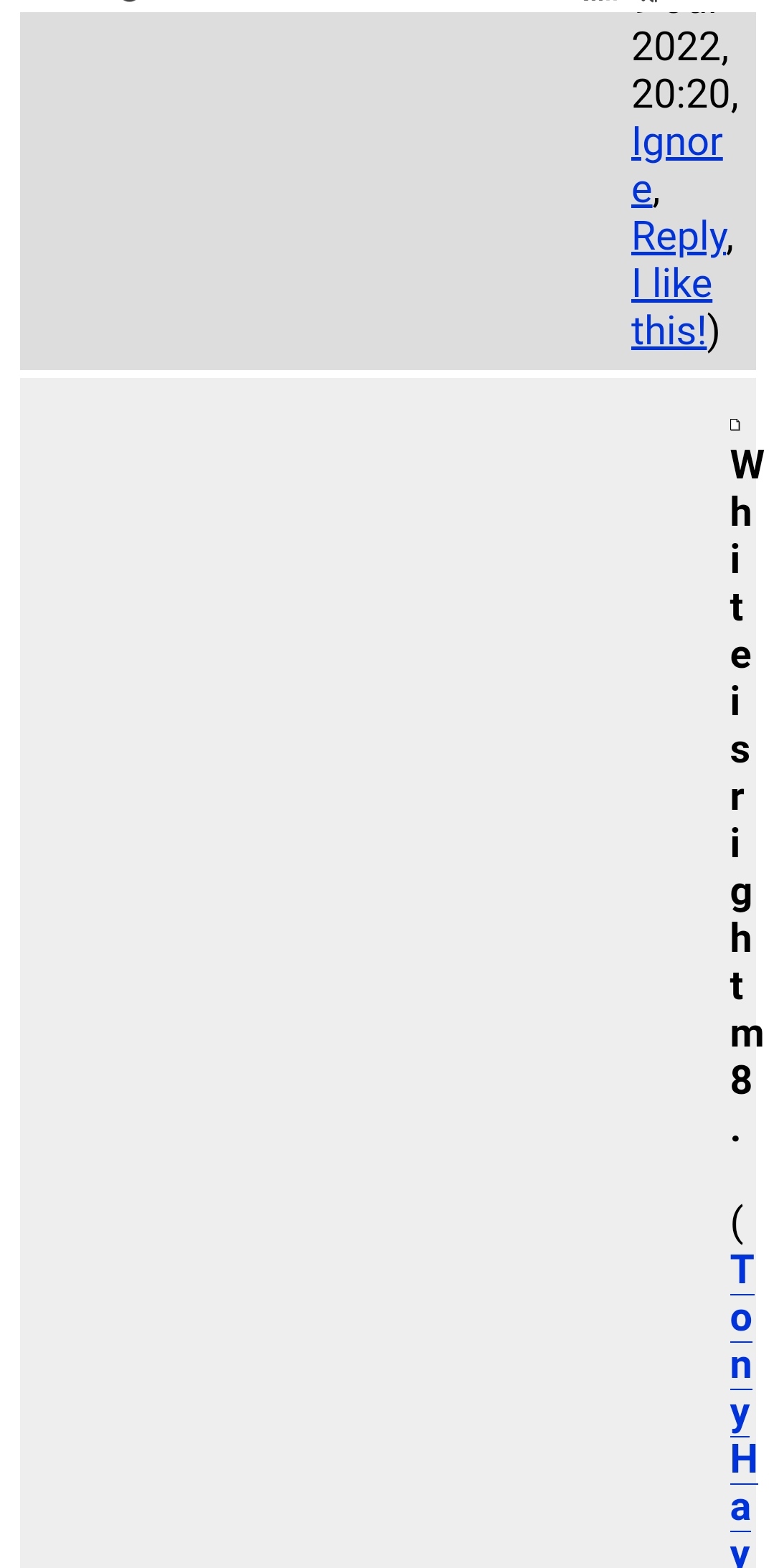 Click for bigger (79 kb)
( , Sat 16 Jul 2022, 14:53,
Reply
)

This has been an issue since the site was redesigned for mobile
( , Mon 18 Jul 2022, 12:53,
Reply
)

what, the comedy racism?
( , Wed 20 Jul 2022, 22:30,
Reply
)

Dunno, you're better off asking someone with a comprehensive record of exactly what racism was typed by which user and on what date
( , Sat 23 Jul 2022, 22:29,
Reply
)
« Go Back
|
See The Full Thread