School Assemblies
Our school assemblies were often presided over by the local vicar, who once warned us of the dreadful dangers of mixing with "Rods and Mockers". One of the cool teachers laughed. Tell us about mad headteachers and assemblies gone wrong.
Inspired by the mighty @Rhodri on Twitter
( , Thu 13 Jun 2013, 12:43)
« Go Back

"You realise of course that this means war?"
Year 12, Final year of school and the last year of having any sort of relationship with Rouse.
Rouse was our deputy headmaster. Often, unless you'd done something sufficiently bad you were disciplined by Rouse rather than the Head, who clearly had far more important things to be doing than telling teen-aged boys off for misbehaving. Rouse was a real stickler for order and regimen - I don't imagine in the 30 odd years of his career did he ever NOT turn up at precisely 0600 every school day and park his Morris Mini in exactly the same spot.
Here
is a related roasted pea about him.
So there we were - a band of poor, misguided, misbegotten souls who seemed to pass each other by the wayside out the front of Rouses office on a fairly regular rotation.
Rouse, being a sound disciplinarian would sigh, refer back to whatever misdeed we had been accused of, occasionally question us about the veracity of some details and or level of guilt and then frequently wearily dole out whatever punishment seemed best suited at the time. Which usually entailed a weeks worth of after school detention or having to come and tidy/garden at the school on Saturday morning with the boarders.
Getting towards the business end of our final year, one day our little group found ourselves all in the same room meeting with Rouse. Now this was different - we all knew each other and had often had dealings that intersected with being sent to see Rouse together but never had we all been in the same place at the same time. Something was afoot.
Rouse began by thanking us for turning up & then started. He reminded us of some of the things that previous Yr.12's had done on "Leavers Day" in the years before us (Leavers Day being the final day of school for yr. 11 & 12's before exams began) - 1 year they had a sign made by one of the student's fathers real estate company - selling the school. Apparently the receptionist spent the day fielding many genuine inquiries. Another year had a Teachers vs. Students Softball game with the neighbouring girls school which culminated in one of our number being suspended for getting caught have carnal relations with a student teacher on prac. from the the girls school.
With this scene set Rouse made it clear to us that there were to be
NO
shenanigans whatsoever this year by our merry band & anyone found to be contravening this dictate faced very serious consequences. The least of which might be not being allowed to sit our exams (one would have thought that they might have the fore-thought to do Leavers Day
after
the exams maybe...). To us of course this was a direct challenge. How could we perform much needed hi-jinxs whilst not running the gamut of having to finish our matriculation at [bleaugh] a public school?
Then it came to us - there was always a big assembly for Leavers Day, in the school chapel, which had some very broad low steps, uphill from the teachers carpark, we numbered 12 of us, Rouses car weighed about 1000kg. and we had access to lots of webbing, and a couple of heavy-duty hoists from the manual arts dept.
Thus it came to be - we had a decoy setup so when Rouse turned up at 0600 (on the dot) he was busy for a good hour or so before school dealing with some lost but urgent paperwork and a couple of blokes that got "caught" smoking (punishment was going for a run with the headmaster for a week - meh.). Which gave us more than enough time to use the hoists and several lengths of 100mm webbing to trundle his car up to the chapel entrance and then manually lift it onto the topmost chapel step. All without being seen. Once everything was back in it place we all showered and got into our blazers ready just in time for 0830 when us and the rest of the school arrived for chapel to find Rouse and the headmaster raving and fuming at this small car sitting neatly in between the 2 front doors of the chapel.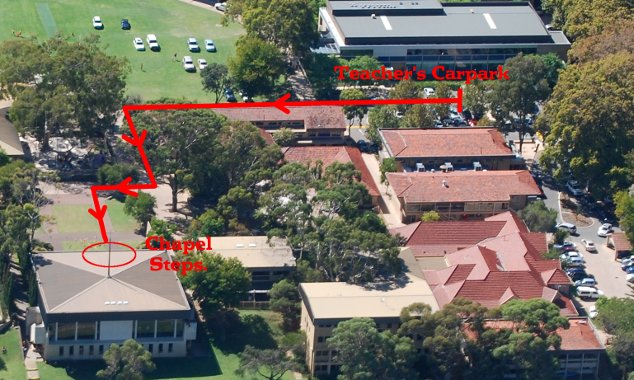 Assembly that morning did not go as I think anyone had planned it.
Apparently they did eventually find some students willing enough to assist the school gardeners to lower the small vehicle back down to the roadway where Rouse could then noisily drive off after assembly and take half a days stress leave.
Some looks were cast our respective ways but seeing how we had all been catching buses and trains to school (with our tickets purchased as proof!) there was no way of proving who had done it.
What a lively bunch of japesters were we!
EDIT: For the crayon-munchers, tl;dr - we played a prank on the teacher that most often told us off by moving his car to a place where he could not simply drive it away.
( , Sat 15 Jun 2013, 2:50,
6 replies
)

For someone who is trying to be the new Legless, you're doing a piss poor job of it.
You didn't even claim to have sellotaped the car to a wall or anything.
( , Sat 15 Jun 2013, 9:44,
closed
)

For someone who rarely posts an original story here
you sure have a big chin.
EDIT: Even AB posts more original stories here. & we both know that that's saying something!
( , Sat 15 Jun 2013, 9:51,
closed
)

Needs more bigotry, inflated self-importance, and tabloid-style "reposting" of other people's stories.
( , Sat 15 Jun 2013, 19:48,
closed
)
« Go Back