Abusing freebies
A friend of mine recently attended a 'Champaign Lunch', where he was compelled drink as much fizzy stuff as he could between the first and last courses. In an ideal world we'd ask restaurant staff to tell us stories about fatties stuffing themselves at All You Can Eat places, but we recognise that our members don't all work in the catering trade, so for the rest of you - tell us something about abusing freebies. BTW: Bee puns = you fail.
( , Thu 8 Nov 2007, 14:16)
« Go Back

"Something like this happens only once in a lifetime"
It's not as much the freeness but the lucky circumstances surrounding this that make me still want to cry about 2 weeks later!
T'was a Tuesday. A day of rest for myself from the labours of uni (but when only in 2x2 hours a week most days are) but a group presentation was due for the next day. Being the good guy I am I decide to take the commute into Glasgow anyway and meet up with the rest.
The previous Friday news reached me of Lee Evans playing at the Glasgow SECC. So I decide it would be best to go get tickets as well before meeting the group.
As I walk out the SECC, £120 cash spent I get a text about a cash machine in Glasgow Central station paying out double.
Runs does I to the train, gets it in and am greeted by a big queue. Nonetheless I stand in it (along with 3 other mates who all got the same text) and finally reach the front.
I had taken out £120 on the tickets already so was limited to £180 so plumped for that and got this.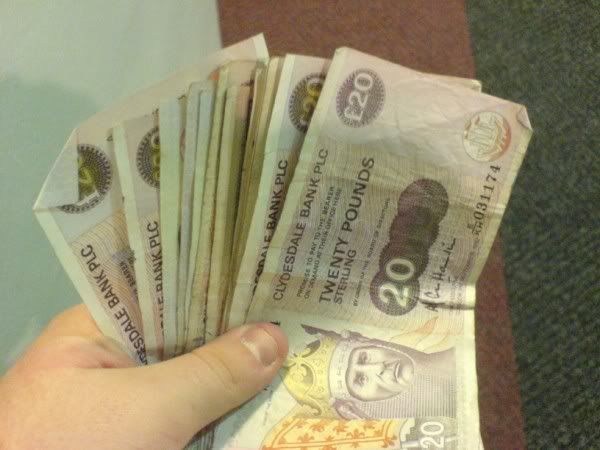 £360 lovely pounds.
I put it back into my account after dealing with the presentation and now - about 3 weeks later - nothing has happened and I'm actually beginning to believe I may get to keep it!
So I got a free £180 as I was in Glasgow a day I normally wouldn't, and being about a 10 minutes train ride from the station at the right time. Luck? Or God loving me?
....and I got Lee Evans tickets :-D
( , Sat 10 Nov 2007, 8:51,
4 replies
)

lucky
This happens every now and then. Seemingly some kind of internal problem with the machine, ie it thinks it has a box full of tenners, when they are really twenties, so you get double payout.
Never happened to me though :(
( , Sat 10 Nov 2007, 10:12,
closed
)

Dammit
Always read of this thing - never had it happen to me (or anywhere near).
Then where am I when it finally happens, not only in my city, but very near to my old job?
I've fucking moved to another country!!!
Gutted
PS - far as I know, they won't take any action. Their fault, can't do anything
( , Sat 10 Nov 2007, 12:40,
closed
)

But it's all in that funny foreign money!
Not like good, Christian English money.
( , Mon 12 Nov 2007, 16:28,
closed
)

No, no...
...£180 is about the going rate of compensation for having to watch Lee Evans - pretty impressive that the ATM knew what the money was for, though.
( , Tue 13 Nov 2007, 13:17,
closed
)
« Go Back