Body Mods
This week we hand the honours over to DippyFi, who asks:
"Got your girlfriend stuck on your Prince Albert? Had an argument with your tattoo artist mid-tattoo? Piercing mysteriously dissolved the cartilege in your ear? Or worse: decided to pierce yourself while you were drunk? Go on, I wanna hear all the gory details!"
The closest I've got to body piercing was when a friend stuck a sodding gardening fork through my right hand. It wasn't a good look to be honest.
( , Thu 30 Nov 2006, 23:02)
« Go Back

Well....
there's the arm I broke falling off my bike when I was a kid: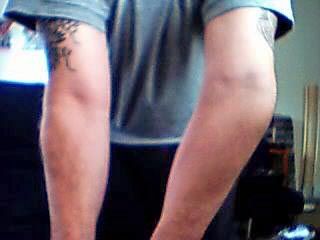 If I'd fallen the other way, I would have been crushed under a coach!
( , Tue 5 Dec 2006, 0:28,
Reply
)
« Go Back