Fancy Dress
Two words that fill me with dread. Fancy Dress. Some people really get off on this - last party I went to that involved dressing up, one bloke came in a sort of fetish-nazi outfit, all tight black pvc, whips and jackboots.* Which would have been OK but it was a Eurovision party, and he'd come as Austria.
What's the worst costume you've encountered? Or worn? Or been made to wear...
*and no, it wasn't one of them royals
( , Thu 12 Jan 2006, 20:15)
« Go Back

Halloween 2004 ...
Me as Hitler (months before that Harry got in the act), housemate as werewolf.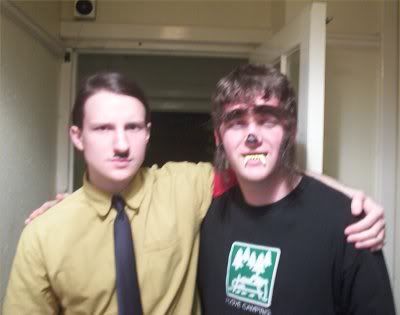 However, on completion of my costume I was reminded the girl I had recently started dating, and would be accompanying me to the party was in fact from Germany.
Luckily, she thought it was hilarious, and even let me keep the moustache on in bed.
( , Mon 16 Jan 2006, 20:33,
Reply
)
« Go Back