Job Interview Disasters
The boss showed me the shop floor, complete with loose floor tiles, out-of-date equipment and prospective colleagues eyeing me like a raw steak. "Christ, what a craphole", I said. I think that's the moment I blew it. Tell us how you didn't get the job.
Suggested by Field Marshall Dozington-Smythe (Ret.)
( , Thu 21 Nov 2013, 13:06)
« Go Back

I never got as far as the interview stage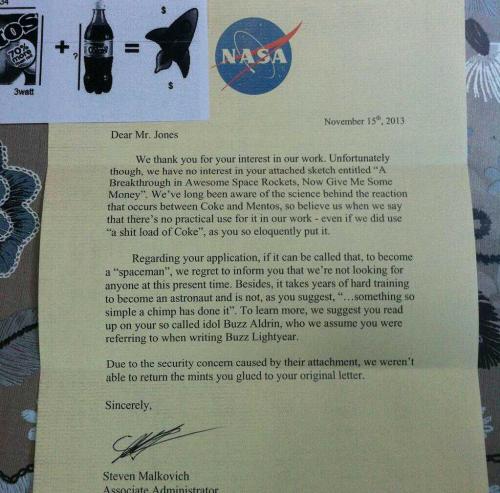 Click for bigger (124 kb)
( , Sat 23 Nov 2013, 16:15,
6 replies
)

I see where you went wrong...
...it was with "a shitload of Coke". Nasa are used to precision, so you should have said something along the lines of "a metric fuck-ton of Coke".
( , Sat 23 Nov 2013, 19:55,
closed
)

NASA is famous for not being able to differentiate, or not care about the difference, between metric and imperial units.
See?
Therefore, you are wrong. "Metric fuck-ton" would mean nothing to them.
( , Sat 23 Nov 2013, 22:15,
closed
)
« Go Back